Why choose the Tarn?
Situated in the heart of south west France, the Tarn is the prettiest of the eight departments in the Midi-Pyrénées. Albi – the capital of the Tarn – was inscribed on the UNESCO World Heritage list on 31 July 2010.  The episcopal city counts 51 302 habitants (2007),  is a small bustling city with good shops, several excellent restaurants and a great café culture. Albi is also known for its fine buildings and easy access to Toulouse. Albi Tourist Office and Tourist Office Toulouse.
Venturing just north of Albi you will find a landscape "where Tuscany meets the Cotswolds". The many picturesque medieval Bastide villages are set against a backdrop of rolling hills, vineyards and fields of sunflowers. The traditional use of warm, honey-coloured stone accentuates the beautiful architectural features of the properties throughout the region. Tarn tourism.
The Midi-Pyrénées is quoted as being the region in France where people live longest and living conditions are the best. It also boasts an average of 2000 hours of sunshine per year.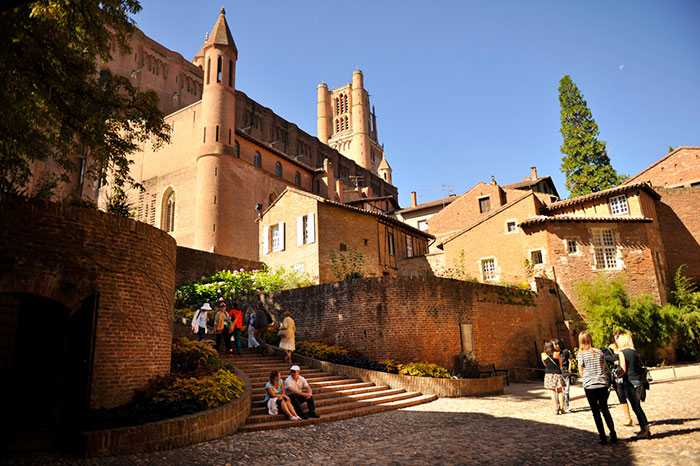 At the centre of this little pocket of south west France is a "triangle d'or" (golden triangle) encompassing the region around Albi, the market town of Gaillac and the charming hilltop bastide village of Cordes-sur-Ciel. Gaillac Tourist Office and Cordes sur Ciel.
Accessibility
Between early April and late June, the average temperatures are between 16°C and 24°C. July and August can see a range of temperatures from 13°C-15°C in the morning and up to 26°C-30°C at lunchtime, cooling down to pleasant temperatures in the evening. Autumn is often a time of Indian summers – and the cooler weather usually doesn't arrive until well after October.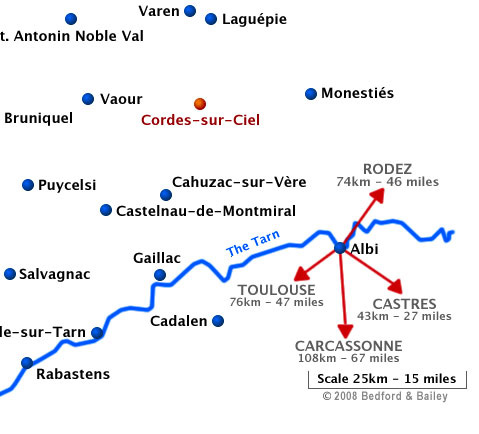 Accommodation contact addresses and websites
B&B in and around Cordes-sur-Ciel:
N° 11 :
11 Rue du Toupi, 81170 Cordes sur Ciel – tel. + 33 (0) 6 17 78 08 22
La Maison au Puits :
20 rue Gargaridès, 81170 Cordes-sur-Ciel – tel: +33 (0) 5 63 60 23 05
Le Cayrols :
81170 Livers Cazelles – tel: +33 (0) 5 63 56 22 46
A selection of Gites locally that are known to us and that we would highly recommend:
Farmhouses and Villas :
Hébergement dans le Tarn South West France.
Le Garissou : Lieu dit Garissou – 81170 Les cabannes – Tél. :05 63 56 27 14
We are only 2 hours away from the ski slopes of the Pyrenees. We are only 2 hours away from the ski slopes of the Pyrenees. If you like and sports in general the Tarn is a winner.
There are several good golf courses,
including our personal favourite at Chateau Lasbordes in Albi. This is a beautiful course on the river Tarn with views of the spectacular Sainte-Cécile cathedral in Albi. Horse riding, mountain biking and kayaking are all available, without forgetting that this area is the renowned for its rugby prowess and home to the best team in Europe – in the eyes of Stade Toulouse, at least! Rugby Stade Toulouse And walkers are well-catered for with many wonderful Grandes Randonnées. We are only two hours from the Pyrenean ski resorts of France, Andorra and Spain.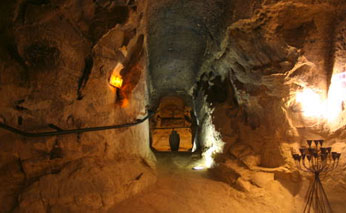 Climbing
Horizon Spéléo Canyon – Amiel – 81140 Penne – contact Thierry Mialhe – Telephone: 05 63 31 41 76 – Telephone: 06 88 55 93 48
Food and wine of the region
Delicious food and wine can be enjoyed throughout the region. There are 22 Appellation Controle vineyards in the Gaillac area alone. Gaillac was the first inland vineyard planted by the Romans after they colonised the Mediterranean coast in about 125 BC. Today, Gaillac is one of the most innovative wine-growing areas of France. The Gaillac winemakers are celebrated for their red, white, rosé and sparkling wines. The white wines are generally dry and fruity and the red wines are rich and full-bodied. Gaillac wines.
The choice of gastronomic specialities is considerable. Locally produced meat, cheese, fruit and vegetables are always available in the farmers' markets and supermarkets. In restaurants you are likely to be offered foie gras, confit-de-canard and, of course, Cassoulet. There are also numerous varieties of cheese, including the delicious, regionally produced Roquefort.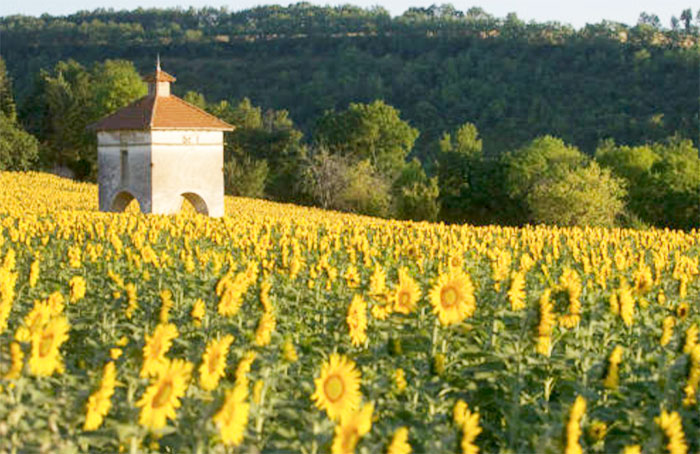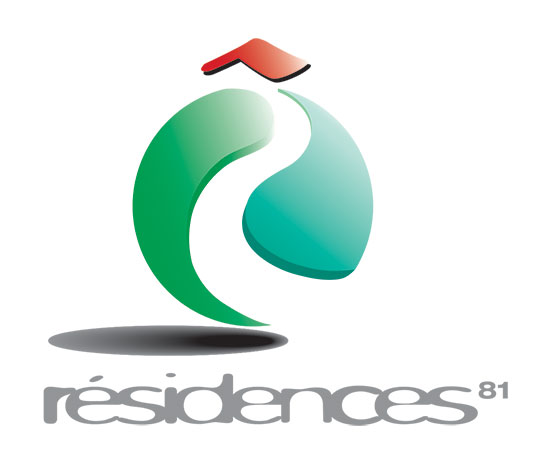 Agency
Résidences 81, 30 rue Camboulives, 81000 Albi, France.
Carte professionnelle
n° CPI81012016000013032
Residences 81
Properties for sale and rent in the Tarn, Albi, Cordes sur Ciel and Gaillac.
Telephones
Agency : 05 63 47 16 66
Delphine Salingardes : 06 20 59 82 73
Laurette Bailey : 06 17 78 08 22
Paul Bedford : 06 19 46 01 22
Horaires sur rendez-vous
Monday 14:00 - 18:00
Tuesday to Friday 9:30 - 12:00 and 14:00 - 18:00
Saturday 9:30 - 12:00